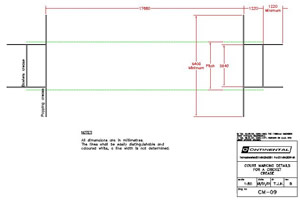 Typically cricket in a multi-sports enfironment is practiced using roll-out matting and therefore creases are not required to be marked. If a suitable sports flooring is used (e.g. some types of Gerflor vinyl and UniTurf) then creases can be marked on the floor.
Cricket nets should typically draw out about ¾ the length of th ehall and be accompanied by a separate backstop net with sightscreen behind the bowlers - this is both to enable the batsmen to see the ball clearly, and also to catch well driven balls so as to prevent ricochet off the back wall.
Special considerations apply to cricket practice netting in a bespoke cricket practice facility so please call us for further discussions if higher level cricket practice is a focus of your project.
We have included the following information for download below:
Drawing CM-09 - shows the standard markings for a cricket crease
ECB document "Indoor Sports Halls with Cricket Provision" (with contribution from Continental Sports Ltd
Layout and run-off guidance for cricket practice nets:

Minimum
Recommended maximum
Lenght (mm)

31200
33620
Width of each bay (mm)

3660
4000
Height to roof net (mm)

5000
5000
Height of lofted drive net (mm)

4000
4000
Space behind stumps (mm)
2500
N/A
Net to wall (mm)
1000mm up to 2m above finished floor level. Above that height margins are to be not less than 500mm from, for example, basketball goal hoops to reduce the risk of balls hitting equipment
Blinkers (canvas screens between batsmen)
7720mm from the back netting, 5000mm in front of the popping crease
Roll-out mats
11220mm at the batting end (10000mm in front of the popping crease) and 10000mm at the bowling end (6000mm behind the bowling crease, 4000mm in fron)
Sport England data sheet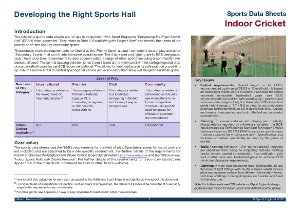 Sport England have released various sport-specific data sheets for key sports in conjunction with the National Governing Bodies. These sheets are intended to be used in conjunction with Sport England's 'Developing the Right Sports Hall'. They relate to Step 5 'Establishing the Project Brief' and identify the needs of the priority sport and the key secondary sports. They show the requirements for the 'Priority Sport' at various levels of play and how other 'Secondary Sports' can fit into the same overall space
You can download this data sheet from the Downloads section at the foot of this page.