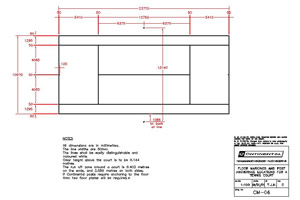 Tennis can be played in a standard 4-court sports hall although normally this is a minority sport in a multi-sports hall so various compromises are necessary to the guidance of the governing body.
We have included some useful drawings for download at the foot of this page:
Drawing CM-06 – shows the standard markings for a doubles tennis court
Drawing CM-27 - shows the anchor locations for Continental's standard indoor tennis posts. These posts must be anchored for use.
| | |
| --- | --- |
| Layout and run-off guidance for a tennis court: | All levels |
| Above the net (mm) | 9000 |
| Above the baseline (mm) | 5750 |
| Above a point 6.4m behind the baseline (mm) | 4000 |
| Length (mm) | 23770 |
| Width (mm) | 10970 |
| Run-off behind baseline (mm) (min-preferred) | 5490-6400 |
| Run-off at the sidelines (mm) (min-preferred) | 3050-3660 |