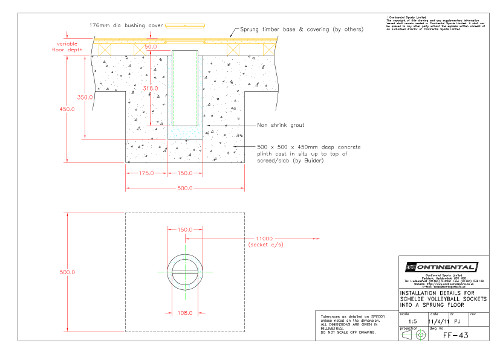 The decision regarding floor construction is very important as it can impact on any equipment that you may be installing that requires floor anchors or sockets.
The strength of the slab and depth of slab is vital in determining whether the floor anchors that are required for certain equipment will be suitable. For example, if you are installing certain pre-cast concrete slab flooring systems, there may be voids within the slab which may be located underneath a point that needs a floor fixing. If we drill into an area that has a void it may be that there is insufficient concrete to provide a solid fixing - for example certain gymnastics equipment requires a fixing strong enough to accommodate a fixing which will take a 300kg load. You may therefore need to fill in some of the voids to provide a solid area - this can be difficult and expensive to retro-fit.
Standard floor anchors for gamesposts or gymnastics equipment are set 100mm into the slab and slab thickening is not normally required, however please note that fixings cannot be made into screed or insulation, so if there is a layer of screed and or insulation above the slab then in-situ concrete plinths may be required in order to accommodate the fixings.
For some higher level socketed gamesposts for volleyball, netball and some high level versions of other sports equipment such as handball goals, floor sockets are required to be set into the slab rather than using floor anchors. To accommodate these style of sockets, your slab should be thickened in the location of the sockets to approximately 400mm deep (this is a maximum depth and shallower depths may be accommodated depending on the type of sports floor – please contact us for further discussions).