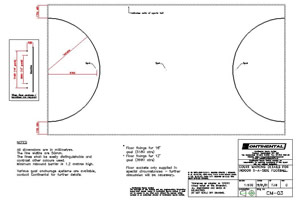 Traditionally played using the perimeter of the hall as a rebound wall – the walls are "in-play" so it is normal NOT to mark a perimeter to the court. If the hall is too wide (for example in a 6-court or 8-court hall or larger) then temporary removable "rebound screens" can be used to provide a number of smaller courts.
Technically, the FA requires 80mm thick lines for five-a-side, but traditionally standard 50mm thick lines are marked.
We have included some useful drawings for download in the panel to the right hand side of this page:
Drawing CM-03 – shows the standard markings for a five a side court
Drawing CM-30 - shows the locations for floor anchors for Continental indoor Five-A-Side goals. Five-a-side goals must be secured when in use. Wall anchors are cheaper and less obtrusive, but in situations where wall anchoring is not possible then the goals must be floor anchored.
Layout and run-off guidance for a five-a-side football pitch:

Community
Club
Premier
International
Minimum height over court (mm)

No prescribed minimum height applies
Length (mm) (min-max)

25000-50000
25000-50000
25000-50000
25000-50000
Width (mm) (min-max)

16500-35000
16500-35000
16500-35000
16500-35000
Out of bounds surround (mm)

N/A – the game is played up to the walls which are "in-play". If there are areas where the walls are unsafe or irregular (for example recesses or store doors), consideration should be given to installing rebound screens in those areas to provide a safe rebound area