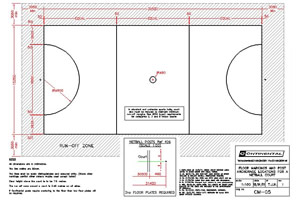 Netball court size has recently been a hot topic in standard sports halls. The governing body had set run-off requirements which resulted in a necessity to shrink the court to fit the run-offs in an "old" 33m x 18m hall. The governing body has now formally confirmed that smaller run-offs than standard can be permitted, subject to risk assessment, to allow a full size court to be marked.
We have included some useful drawings for download in the panel to the right hand side of this page:
Drawing CM-05 – shows the standard markings for a netball court
Drawing CM-18 – shows anchor positions to suit Continental's competition floor anchored netball posts. These posts must be anchored
Drawing CM-28 - shows anchor positions to suit Continental's standard netball posts. These are freestanding but can be anchored if required
Drawing CM-24 - shows socket locations to suit socketed competition netball posts.
Layout and run-off guidance for a netball court:

Community
Club
Premier
International
Minimum height over court (mm)

7500
7500
7500
8300
Length (mm)

30500
30500
30500
30500
Width (mm)

15250
15250
15250
15250
Baseline to wall - min (mm)

2000
3050
3050
3050
Sidelines to wall - min (mm)
1500
3050
3050
3050
Between parallel courts - min (mm)
3000
4000
4000
4000
Space between parallel courts with a division net at the side of the court - min (mm)
3000
6100
6100
6100
Extra one side for officials and team areas - min (mm)
Optional
Optional
2000
2000
Notes
England Netball confirm that where there is insufficient space for a full size (30.5m x 15.25m) court and full size run offs, then there should be a risk assessment to allow reducted run offs with the court being retained at 30.5m x 15.25m. This gives scope to accomodate a full size court in an "old" 33m x 18m hall subject to appropriate risk assessment.
Sport England data sheet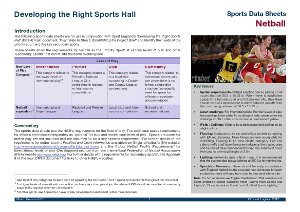 Sport England have released various sport-specific data sheets for key sports in conjunction with the National Governing Bodies. These sheets are intended to be used in conjunction with Sport England's 'Developing the Right Sports Hall'. They relate to Step 5 'Establishing the Project Brief' and identify the needs of the priority sport and the key secondary sports. They show the requirements for the 'Priority Sport' at various levels of play and how other 'Secondary Sports' can fit into the same overall space
You can download this data sheet from the Downloads section at the foot of this page.