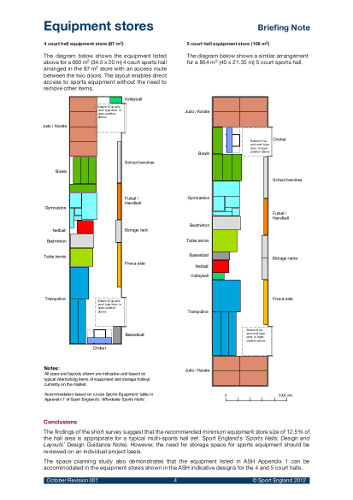 We are often asked about the optimal size and layout of sports hall storerooms. We advise as follows:
How big should the doors into my sports hall and from the hall into the storeroom(s) be?
The largest items that typically go into a sports hall are folded trampolines. If those are on fixed height stands the doors should be 2200mm high but Continental manufacture SafeLift hydraulically assisted roller stands for trampolines which mean the doors can be standard 2000mm openings.
Double doors into the hall and storeroom(s) are essential to enable larger objects to be moved into the hall
What size should my sports hall storeroom be?
Sports hall stores are often too small as valuable space is often taken from storage and allocated to other uses as a design progresses.
We agree with Sport England in that the best assessment of space is that as long as there is a storeroom available with a floor area at least 12.5% of the floor area of the sports hall then that is sufficient. We have seen 10% being sufficient, but 12.5% is a safer target.
There will be special considerations if you intend to store more than the "normal" level of sports provision. In particular a comprehensive provision for high level artistic gymnastics would require a significant amount of storage space.
Sport England published a briefing note on store room sizes in October 2012 which can be downloaded at the foot of this page.
Can you help show my equipment in the storeroom?
We are often asked to "prove" that a sports hall store will accommodate all the items being purchased. However we are reluctant to do this because whilst we have CAD blocks showing the stored dimensions of all our equipment, it is not possible to show on CAD items put on top of other items (as they would be in the real world) and whilst we may be able to show the equipment fits theoretically, it may be that we position the most used item at the back of the store and therefore it doesn't work practically.
On a practical level it is unlikely that we will be the source of all the items going into the store, and the institution may have legacy items, or other consumable type items purchased elsewhere that we could not show on a drawing.
Our advice is always that if your store is 12.5% of the area of your sports hall then the storage should be adequate.
Continental Sports can help fit out your sports hall storeroom with wall brackets, hooks, and bespoke mesh storage cages to prevent unauthorised access to equipment.