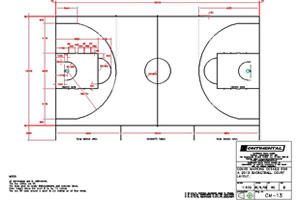 The FIBA basketball court layout changed in 2010 to bring the court more into line with the NBA layout. That change did away with the trapezoidal shooting key and replaced it with a rectangular key. The overall dimensions of the court and the projection of the backboard into the court are unchanged, so old style courts can be re-marked with the new markings without having to change basketball goals.
We have included some useful basketball court line marking drawings at the foot of the page:
Drawing CM-13 - shows the standard basketball court layout
Drawing CM-10 - shows the guidance for a mini-basketball court. These are rarely marked in full size sports halls, but provide a suitable set of markings for a smaller hall used by younger children.
Layout and run-off guidance for a basketball court:

Community
Club
Premier
International
Minimum height over court (mm)

7000
7000
7000
7000
Length (min-preferred) (mm)

26000-28000
26000-28000
26000-28000
28000
Width (min-preferred) (mm)

14000-15000
14000-15000
14000-15000
15000
Baseline to wall - min (mm)

1050(1)
1050(1)
2050
2050
Sideline to wall - min (mm)
1050(1)
1050(1)
2050
2050
Extra space one side for officials and team areas
Optional
1000
1000
2000
Notes
(1) 1050mm is permitted to allow larger 28m x 15m size courts to be located in smaller halls. However wherever possible the preferred minimum run-off is 2050mm
Sport England data sheet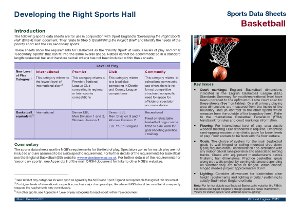 Sport England have released various sport-specific data sheets for key sports in conjunction with the National Governing Bodies. These sheets are intended to be used in conjunction with Sport England's 'Developing the Right Sports Hall'. They relate to Step 5 'Establishing the Project Brief' and identify the needs of the priority sport and the key secondary sports. They show the requirements for the 'Priority Sport' at various levels of play and how other 'Secondary Sports' can fit into the same overall space
You can download this data sheet from the Downloads section at the foot of this page.